Our Age-Specific Kids Martial Arts Classes Include MMA, BJJ, Taekwondo, And More!
At Amped Mixed Martial Arts, we know that young kids aren't interested in learning just one discipline. They want to try them all - and we're giving them chance to do just that.
Our Kids Martial Arts program includes instruction in a wide range of disciplines, including Boxing, Karate, Kickboxing, Taekwondo, Muay Thai, Brazilian Jiu-Jitsu, and Mixed Martial Arts. We offer age-specific instruction that surrounds your child with classmates of the same age and skill level to help them train with confidence.
We're proud to work with students all across East Hanover and Florham Park. Just fill out the short form on your screen to learn more today!
Find The Kids Martial Arts Class That Works Best For Your Child - Or Try Them All!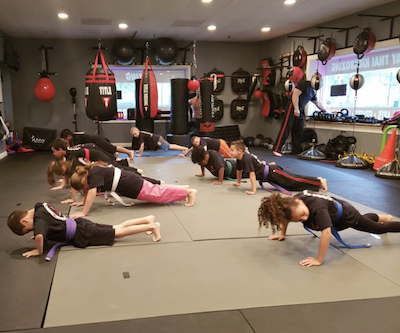 Our team here at Amped Mixed Martial Arts is proud to offer comprehensive instruction in everything from stand-up striking to ground grappling and beyond. We offer a new slate of Kids Martial Arts classes every single day to keep your child on their toes and help them build well-rounded skills in no time.
Come see us here in East Hanover today for:
Kids Mixed Martial Arts (Ages 4-5; 6-11; Teens): Our students take on a great blend of Taekwondo and ground-based self-defense skills. This class can build your child up one step at a time and help them have fun learning something new every day.
Kids Brazilian Jiu-Jitsu (Ages 5-9): Treat your child to the best ground grappling skills with a focus on safety every step of the way. We teach sport-style Brazilian Jiu-Jitsu and help students learn how to maintain control and leverage from any position.
PLUS, In All Of Our Kids Martial Arts Classes, Your Child Can Take On Incredible Character Development
We know how exciting it is for our students to learn new skills and challenge themselves. But we also know that, as a parent, you're interested in more than just their athletic development.
You want them to be respectful and confident and able to work well with others. Well, that's exactly what we're offering.
At Amped Mixed Martial Arts, our Kids Martial Arts program is all about surrounding students with positive role models and preparing them for all aspects of life.
We're helping students all across East Hanover and Florham Park:
Develop leadership and teamwork skills
Learn effective communication and conflict strategies
Face life with more confidence than ever before
Enjoy a great sense of accomplishment after every class
Get Started Today With The Best Kids Martial Arts Classes In East Hanover
If you're looking for a great way to keep your child active and set them up for success in all aspects of life, we have the answer for you here. Our Kids Martial Arts classes are perfect for students of any age or experience level.
Fill out the short form on your screen to learn more about Amped Mixed Martial Arts and everything else we have to offer here in East Hanover.